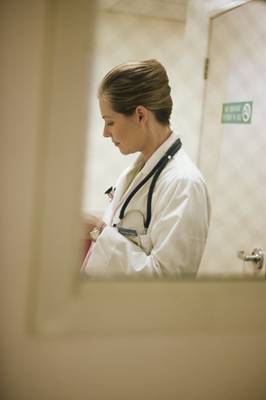 The DocSynergy™ Correctional Solution, MedUnison's software service and platform, is a highly secure, enterprise-level electronic healthcare system complete with an electronic health record (EHR), electronic prescribing, scheduling tool, proprietary SmartForms™ clinical documentation technology, native telemedicine support, and interoperability engine. Built from the ground up on the "software as a service" model, the components of the DocSynergy™ system may be used alone or in tandem to yield impressive results.
MedUnison understands the many unique issues surrounding the correctional environment and our Correctional EHR Solution is designed specifically for correctional facilities that serve pretrial or sentenced inmates or both. Our experts work with correctional staff to leverage the health record into their clinical and administrative processes improving care and generating real cost savings quickly. DocSynergy™ is a turn-key offering that is a proven easy-to-use solution. We configure our DocSynergy™ solution to suit your needs.
Traditional enterprise EHR applications charge expensive installation fees, costly unexpected updates, licensing fees and other recurring expenses. All while promising vague cost savings in a distant and unclear future. In contrast, MedUnison's cloud-based solutions have low set-up costs and a predictable monthly fee. The only technology burden for the customer is standard maintenance of user PCs with internet access.
Use of DocSynergy™ in a major correctional system resulted in a 71% decrease in inmate transports for specialty care, and wait times for specialists' opinions reduced from 3 to 4 months to less than 60 hours! These improvements in care quality are accompanied by significant reductions in cost, often resulting in a measurable return on investment (ROI) within months, not years.
In most correctional settings, lawsuits brought by inmates are fairly common, particularly against the healthcare delivery system. With superior data-gathering and archival features DocSynergy™ has enabled correctional officials to substantiate patient care, usually achieving speedy dismissal of frivolous lawsuits.
Administrative reports provide a broad, enterprise-level view of the system. Reports show system-wide utilization of care and resources, and presenting corrections officials with the data they need to make important decisions. Cost savings are immediately apparent in utilization reports. Population management as well as individual care quality assessment is well-supported. System-wide snapshots of disease burden and most common diagnoses are immediately available. Disease surveillance and management are greatly enhanced, and quality improvement initiatives are supported by the rich data gathered before and after interventions.
In addition, DocSynergy™ has a unique "shared success" fee structure that minimizes the initial expense by distributing costs over the lifespan of the system. Correctional departments pay only for the features and services they use. Our customer's achievements are linked directly to our payments. Furthermore, the use of widely accepted platforms and user-interface features promotes swift adoption by users. Most are able to learn the system with very little onsite training.
Call 405-271-9900 today to learn how our turn-key solutions can help your organization or click on Learn More.