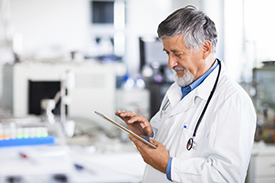 Collaborating on MedUnison's DocSynergy™ cloud based platform allows the entire health care team, both internal and external providers, the ability to interact with anyone on the network in a secure environment. DocSynergy™ is a highly secure, HIPAA compliant, enterprise-level electronic healthcare system complete with an electronic health record (EHR), electronic prescribing, scheduling tool, proprietary SmartForms™ clinical documentation technology, native telemedicine support, and interoperability engine. Built from the ground up on the "software as a service" model, the components of the DocSynergy™ system may be used alone or in tandem to yield impressive results.
With DocSynergy™ our customers get the power of a desktop application through their browser. Easy-to-use tools and an intuitive design, ensure users have full control of health records at their fingertips. With our web-based platform the installation is as simple as opening the browser on any computer.
Instead of paying for expensive installation, costly unexpected updates, licensing fees and other recurring expenses of traditional enterprise EHR applications, with MedUnison's cloud-based solutions you pay low set-up costs and a predictable monthly fee. DocSynergy™ is a turn-key offering that is a proven easy-to-use solution. The only technology burden for the customer is standard maintenance of user PCs with internet access.
Call 405-271-9900 today to learn how our turn-key solutions can help your organization or click on Learn More.