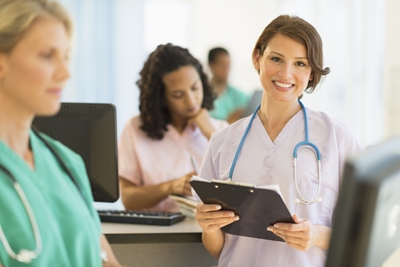 Through the use of MedUnison's DocSynergy™ and the Doc2Doc™ module, providers participating in a Health Information Exchange (HIE) are able to instantly access patient health information through a secure common link with other providers. Providers and specialists have direct access to one another to collaborate on patient care. In addition, health leaders are able to analyze anonymous patient information in order to more effectively measure health outcomes.  With Doc2Doc™, HIE's can support physicians and hospital systems by bringing disparate pieces of information together to form a complete view of their patient experience as well as population health trends, health system utilization and patient outcomes.
The Doc2Doc™ module is a HIPAA compliant browser-based application designed to support users across a variety of care sites of and patient populations while avoiding unnecessary duplication of services, preventing medical errors, and reducing costs.   It is a cloud-based solution that can be integrated into any workflow with any EHR platform. Doc2Doc™ also helps you meet certification standards including: PCMH, Joint Commission and Meaningful Use. Importantly, Doc2Doc™ helps physicians get back to doing what they want to be doing – focusing on their patients.
MedUnison designed the Doc2Doc™ solution to promote efficient, effective transitions between stages of health and care settings by organizing Care Transitions and referrals across many organizations and integrating with the master patient index. We provide a clear view of patient and community health, remove technological barriers to patient-centered care, and automate the gathering of information for administrative and reporting requirements.
Everyone in your HIE will benefit; clinicians access the patient information they need to deliver quality care; Practice Managers provide smooth patient transitions; and Referral Coordinators ensure valuable and timely specialty visits.
Call 405-271-9900 today to learn how our turn-key solutions can help your organization or click on Learn More.